Applications are invited from suitably qualified candidates for admission into four (4) vacation Based Sandwich (8 semester) Programme of Adeyemi College of Education, Ondo, for 2023/2024 Contact session.
The programme is designed to prepare students for NIGERIA CERTIFICATE in EDUCATION (NCE)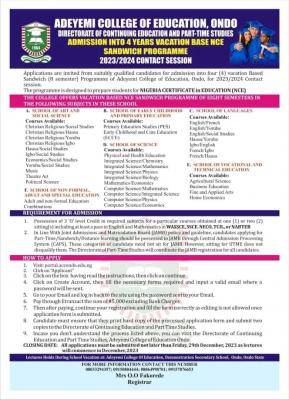 THE COLLEGE OFFERS VACATION BASED NCE SANDWICH PROGRAMME OF EIGHT SEMESTERS IN THE FOLLOWING SUBJECTS IN THESE SCHOOL
A. SCHOOL OF ART AND SOCIAL SCIENCE
Christian Religious/Social Studies
Christian Religious/Hausa
Christian Religious/Yoruba Christian Religious/Igbo
Hausa Social Studies
Igbo/Social Studies Economics/Social Studies
Yoruba/Social Studies
Music
Theatre Art
Political Science
B. SCHOOL OF EARLY CHILDHOOD
AND PRIMARY EDUCATION
Courses Available:
Primary Education Studies (PES)
Early Childhood and Care Education(ECCE)
C. SCHOOL OF LANGUAGES :
Courses Available
English/French
English/Yoruba English/Social Studies
Hausa/Yoruba
Igbo English
French/Igbo French Hausa
D. SCHOOL OF SCIENCE
Courses Available:
Physical and Health Education
Integrated Science/Chemistry
Integrated Science/Mathematics
Integrated Science/Physics
Integreted Science/Biology Mathematics/Economics
Computer Science Mathematics Computer
Science/Integrated Science
Computer Science/Physics Computer Science/Economics
E. SCHOOL OF VOCATIONAL AND TECHNICAL EDUCATION
Courses Available: Agricultural Science
Business Education
Fine and Applied Arts Home Economics
F. SCHOOL OF NON FORMAL
Combinations
ADULT AND SPECIAL EDUCATION Adult and non-formal Education
REQUIREMENT FOR ADMISSION
1. Possession of 3 'O' level Credit in required subjects for a particular courses obtained at one (1) or two (2) sitting(s) including at least a pass in English and Mathematics in WASSCE, SSCE. NECO, TCIL, or NABTEB
2. In Line With Joint Admissions and Matriculation Board (JAMB) policy and guideline, candidates applying for Part-Time/Sandwich/Distance learning should be possessed to JAMB through Central Admission Processing System (CAPS). These categories of candidate need not sit for JAMB. However, sitting for UTME does not disqualify them. The Directorate of Part-Time Studies will coordinate the JAMB registration for all candidates,
HOW TO APPLY
1. Visit: http://portalaceondo.edu.ng
2. Click on "Applicant
3. Click on the box having read the instructions, then click on continue
4. Click on Create Account, then fill the necessary forms required and input a valid email where a password will be sent.
5. Go to your Email and log in back to the site using the password sent to your Email.
6. Pay through Etranzact the sum of #5,000 excluding Bank Charges
7. Then after paying, continue your registration and fill the form correctly as editing is not allowed once application form is submitted.
8. Candidate must ensure that they print hard copy of the processed application form and submit two copies to the Directorate of Continuing Education and Part Time Studies.
9. Incase you don't understand the process listed above, you can visit the Directorate of Continuing Education and Part Time Studies, Adeyemi College of Education Ondo.
CLOSING DATE:
All applications must be submitted not later than Friday, 29th December, 2023 as lectures will commence in December, 2023
Copy