This is to inform all Staff, Students and the indeed the Polytechnic Community that the Honourable Commissioner for Education has approved the appointment of DR. LIONEL UKOKA, MNIPR, FIPMD, as the Deputy Rector of Akwa Ibom State Polytechnic, Ikot Osurua.
Prior to this appointment, he was the Dean, School of Communication Arts and the immediate past Dean, Evening/Part-time Programme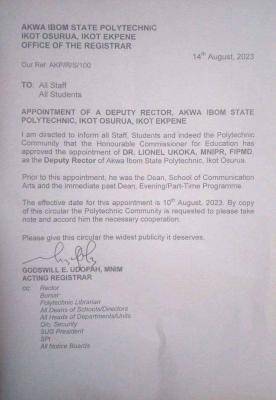 The effective date for this appointment is 10th August, 2023. By copy of this circular the Polytechnic Community is requested to please take note and accord him the necessary cooperation.
Please give this circular the widest publicity it deserves.
Signed
GODSWILL E. UDOFAH, MNIM
ACTING REGISTRAR
cc: Rector
Bursar
Polytechnic Librarian
All Deans of Schools/Directors
All Heads of Departments/Units
O/C, Security
SUG President
SPI