The management of Bingham University, Kodape, Karu, has published the academic calendar for the 1st semester and 2nd semester 2023/2024 academic session
FIRST SEMESTER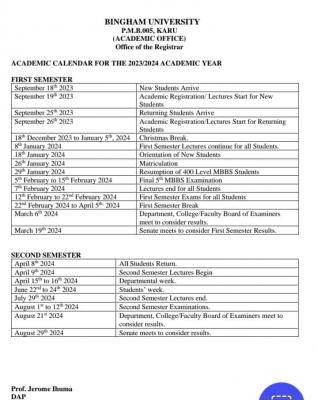 New Students Arrive
Academic Registration/ Lectures Start for New students
Returning Students Arrive
Academic Registration/Lectures Start for Returning Students
Christmas Break.
18th December 2023 to January 5th, 2024
First Semester Lectures continue for all Students.
Lectures end for all Students
First Semester Exams for all Students
12th February to 22nd February 2024
First Semester Break
22 February 2024 to April 5th 2024
SECOND SEMESTER
All Students Return
Second Semester Lectures Begin
Second Semester Lectures end.
Second Semester Examinations.
Prof. Jerome Ihuma
DAP