Please, refer to our memo FPN/R/255/X/241 on the above subject matter dated 18th August, 2023.
Recall that we had in the memo under reference notified you of the postponement of the 21st Convocation Ceremony, owing to some constraints.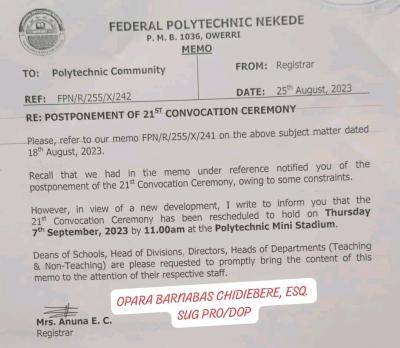 However, in view of a new development, I write to inform you that the 21st Convocation Ceremony has been rescheduled to hold on Thursday 7th September, 2023 by 11.00am at the Polytechnic Mini Stadium.
Deans of Schools, Head of Divisions, Directors, Heads of Departments (Teaching & Non-Teaching) are please requested to promptly bring the content of this memo to the attention of their respective staff.