The attention of the Management has been drawn to a fake recruitment advertisement circulating on Social Media inviting applications from the public to fill various vacant positions in the Polytechnic.
The Management describes this information as fallacious and cheap attempt to defraud the unsuspecting members of the public. Members of the Public are thereby advised to ignore the false advertisement as the Polytechnic did not put out any advertisement for recruitment.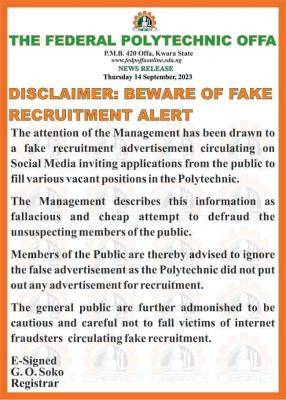 The general public are further admonished to be cautious and careful not to fall victims of internet fraudsters circulating fake recruitment.
Copy