Applications are invited from suitably qualified candidates for the 2023/2024 PostUTME Screening Exercise for jigawa State Polytechnic Dutse.
ELIGIBILITY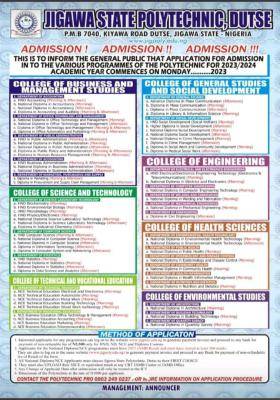 Candidates must choose Jigawa State Polytechnic as their 1st choice.
Candidates must have scored minimum cut off mark in the 2023 UTME Examination.
Candidates must Upload his/her SSCE of Equivalent Results to their JAMB CAPS.
AVAILABLE COURSES
ND in Accountancy
ND in Business Administration
ND in Public Administration
ND in Office Technology
ND in Social Administration
ND in Architecture
ND in Building Technology
ND in Electrical and Electronics
ND in Quantity Surveying
ND in Welding and Fabrication
ND in Civil Engineering
ND in Mechanical Engineering
ND in Estate Management
ND in Urban and Regional Planning
ND in Computer Science
ND in Science Laboratory Technology
ND in Statistics
ND in Environmental Health
ND in Leisure & Tourism Management
ND in Nutrition & Dietetics
ND Social Administration
ND Office Technology
METHOD OF APPLICATION
Interested candidates should log on to https://jigpoly.admissions.cloud/ to generate payment invoice and proceed to any bank for payment of non-refundable fee of N5,500
NOTE
Any change of Application Data after Submission will only be treated at the MIS Unit of the Polytechnic at a rate of N1000 per Applicant
CONTACT THE POLYTECHNIC PRO 0803 249 0237 OR MORE INFORMATION ON APPLICATION PROCEDURE
Copy