Based on JAMB requisition for applicants to make their preferred institution and course a first choice when applying through UTME, the Management of Kano State College of Nursing Sciences is therefore notifying all eligible candidates (having 160 points and above) applying for ND Nursing programme (School of Nursing Kano) that they MUST proceed with their application as follows:
1.Buy a JAMB Green card to enable applicants change their first choice of institution and course to School of Nursing Kano and ND Nursing, respectively. The College is now enlisted and available on JAMB brochure online for selection;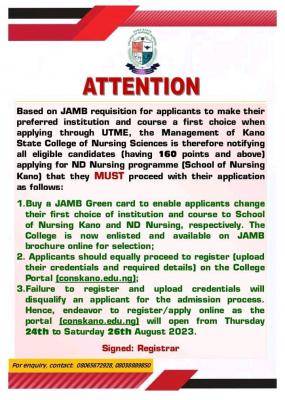 2. Applicants should equally proceed to register (upload their credentials and required details) on the College Portal (http://conskano.edu.ng)
3. Failure to register and upload credentials will disqualify an applicant for the admission process. Hence, endeavor to register/apply online as the portal [http://conskano.edu.ng] will open from Thursday 24th to Saturday 26th August 2023.