This is to inform all Students that Lectures for the 2022/2023 Rain Semester will commence on Monday. 4th September, 2023 as earlier scheduled and as approved by the University Senate.
However, Lectures will be delivered VIRTUALLY to Students for the first five (05) Weeks of the Semester i.e. from Monday, 4th September to Friday. 7th October, 2023. Regular/Physical Lectures will commence thereafter.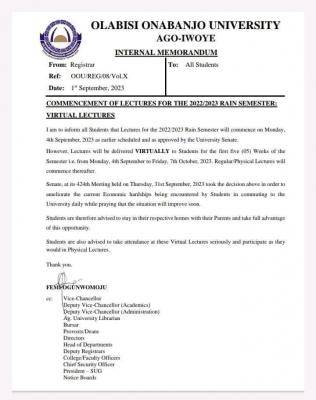 Senate, at its 424th Meeting held on Thursday, 31st September, 2023 took the decision above in order to ameliorate the current Economic hardships being encountered by Students in commuting to the University daily while praying that the situation will improve soon.
Students are therefore advised to stay in their respective homes with their Parents and take full advantage of this opportunity.come