UNIZIK College of Postgraduate Studies extends application for online mode of study, 2023/2024
This is to inform the general public and prospective students of Nnamdi Azikwe University, Awka (UNIZIK) that the College of Postgraduate Studies Sale of forms for the Online Mode of Study has been extended to the 30th of November, 2023.
Candidates can apply for PGD, PhD, MPhil/PhD, Masters via the school's application portal: http://www.myedu.unizik. edu.ng/postgraduate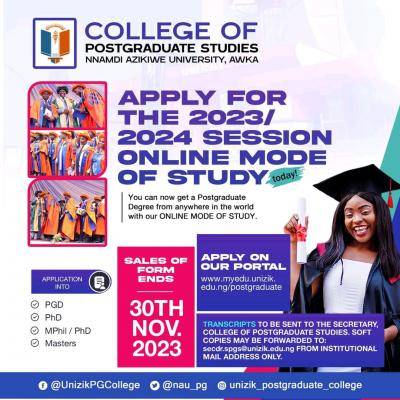 TRANSCRIPTS TO BE SENT TO THE SECRETARY, COLLEGE OF POSTGRADUATE STUDIES. SOFT COPIES MAY BE FORWARDED TO: [email protected] FROM INSTITUTIONAL MAIL ADDRESS ONLY.
Copy