This is to inform all successful students and staff that sat for the October 13, 2022 and March 24, 2023 TRCN Professional Qualifying Examination (PQE), that their professional induction ceremony comes up on Thursday 24 August, 2023. All the inductees are therefore enjoined to collect induction gowns from the Students' Affair unit on or before the 24th of August, 2023 and return the gowns at the end of the programme.
Time: 10:00am prompt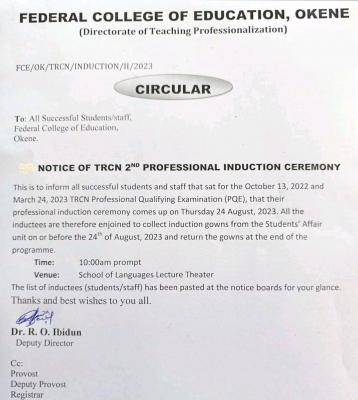 Venue: School of Languages Lecture Theater.
The list of inductees (students/staff) has been pasted at the notice boards for your glance Thanks and best wishes to you all.
Copy