Applications are invited from suitably qualified candidates for the Screening Exercise for admission into the DEGREE Programmes of Fountain University, Osogbo (FUO) for the 2023/2024 Academic session.
Available Programmes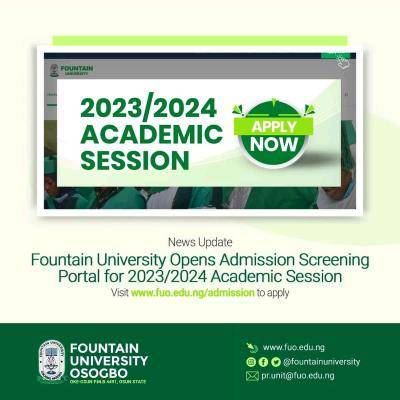 1. COLLEGE OF NATURAL AND APPLIED SCIENCES
( i ) Department of Biological Sciences
a) B.Sc Microbiology
(ii) Department of Chemical Sciences
a) B.Sc Biochemistry and Nutrition
b) B.Sc Chemistry
c) B.Sc Industrial and Environmental Chemistry
(iii) Department of Physics, Electronics and Earth Sciences
a) B.Sc Physics
b) B.Sc Physics and Electronics
(iv) Department of Mathematics and Computer Sciences
a) B.Sc Computer Science
2. COLLEGE OF MANAGEMENT AND SOCIAL SCIENCES
(i) Department of Accounting and Finance
a) B.Sc Accounting
b) B.Sc Banking and Finance
(ii) Department of Economics
a) B.Sc Economics
(iii) Department of Business Administration
a) B.Sc Business Administration
(iv) Department of Political Science and Industrial Relations
a) B.Sc Political Science and Public Administration
b) B.Sc Industrial Relations and Personnel Management
(v) Department of Psychology and Sociology
a) B.Sc Sociology
b) B.Sc Psychology
(vi) Department of Mass Communication
a) B.Sc Mass Communication
3. COLLEGE OF BASIC MEDICAL AND HEALTH
SCIENCES
a) Medical Laboratory Science (B. MLS)
b) Nursing (B.NSc.)
c. Public Health (BSc.)
To be considered for admission at Fountain University, you are required to have chosen Fountain University as the Institution of your First Choice via the portal of the Joint Admissions and Matriculation Board (JAMB) in the 2023 Unified Tertiary Matriculation Examination (UTME).
If you are a prospective student considering Fountain University but did not choose us as your first choice, do not worry – there is still a way forward. We are excited to inform you that you can proceed with the following steps to join our esteemed institution:
Step 1: Change of Institution on the JAMB Portal
Visit the official JAMB portal (www.jamb.gov.ng) and log in to your profile. Then navigate to the "Change of Institution" section. Select Fountain University as your preferred First Choice institution, make the necessary changes then print the evidence of change of Institution.
Step 2: Return to Fountain University's Website
After completing the change of institution process, return to Fountain University's website (www.fuo.edu.ng) to proceed with the next step – the Post UTME Screening. We highly recommend reading through our website's admission requirements and guidelines to ensure you meet the necessary criteria.
Step 3: Post-UTME Screening
Click on "Take Post UTME Screening " to find the registration portal. Fill in the required information accurately and submit your application before the specified deadline. Please note that a Post UTME screening fee of Two Thousand Naira (N2,000) only is applicable.
Step 4: What next after Post UTME Screening?
Once you are done taking the screening test, please pay attention to the following details:
i. Patiently await the admission office to process your application.
ii. Once you have been offered admission, proceed to make a payment NON-REFUNDABLE ACCEPTANCE FEE of Sixty Thousand naira (N60,000) only. You will be notified via E-mail once your payment has been received successfully.
iii. Proceed to your JAMB portal to print the Admission Letter.
iv. Return to your screening portal to print Fountain University's Admission Letter.
v. You are set. Start preparing to resume with us on our vibrant campus.
Fountain University has been providing quality education and molding exceptional individuals to become leaders in various disciplines. We welcome you to join our vibrant and innovative institution.
For any further assistance or clarification regarding the admission process, feel free to reach out to our admissions office via email at [email protected] or contact us at +234-X.
UNIVERSITY APPLICATION STEPS
1. Visit www.fuo.edu.ng and click on "APPLY FOR ADMISSION"
2. Create account by clicking "NEW APPLICATION"
3. Fill appropriately, submit the form and check your email for "APPLICATION NUMBER."
4. Login to the admission portal to start your application
5. Application form payment: Click on "PROCEED TO PAYMENT" to pay your application fee. After payment , follow the prompt. NB: You will need to upload necessary documents in jpg, png or pdf format
6. Take the POST UTME exam by clicking on the link "TAKE POST UTME EXAM"
7. Await the admission office to process your application.
8. Once you have been offered admission, Proceed to make payment for acceptance fees. After payment of acceptance fee, your portal changes
9. Print your Acceptance Letter.
HOW TO MAKE PAYMENTS
1. Go to newportal.fuo.edu.ng, click on 'STUDENTS' from the 'MENU' and login with your matric number and Surname as default password. Change your password upon first login.
2. Ensure your profile is updated by clicking on "MY PROFILE" menu on portal. Contact the bursary to know the payments you are paying for. enter the amount you would like to pay e.g 221000 without comma or any special character. And proceed to make payments.
3. Click on "FEES" to see the available fees. Select the fees as applicable to you.
4. Register your courses after meeting with your level adviser
5. Meet your level adviser for approval of courses
6.Return to your portal to print the approved courses and proceed to college, department, bursary etc to sign your course forms.
METHOD OF APPLICATION
Interested candidates are to visit http://portal.fuo.edu.ng/admission-portal/preregister.php
Fill the appropriate application form and pay the corresponding fee online.
Enquiries:
e-mail: [email protected]
Copy