This is to remind all students that the Add and/or Drop course registration portal for the Second Semester 2021/2022 and 2022/2023 Academic Sessions will be open for two weeks from Monday 4th September 2023 to Friday 16th September 2023.
Students wishing to add and drop a Second Semester Course are advised to contact their Heads of Department, Examination Officer or Level Coordinator for proper guidance.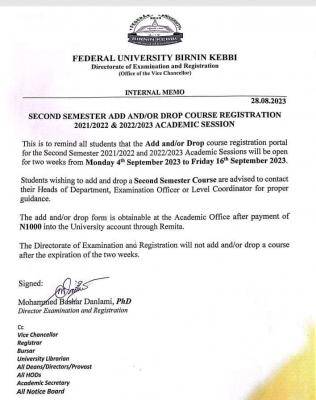 The add and/or drop form is obtainable at the Academic Office after payment of N1000 into the University account through Remita.
The Directorate of Examination and Registration will not add and/or drop a course after the expiration of the two weeks.
Copy